The small box makes it easier to take medicines. Stock medicine and cut medicine, complete in one step.
FEATURES:
Compact size and lightweight, easy to carry when traveling.
Easy to open, removable interior compartment, convenient to clean up.
Individual compartments avoid accidentally spilling other pills.
Locking buckle of outer case keeps pill organizer secure, interior elastic silicon gasket keeps airtight and moisture-proof.
Enjoy healthy and sweet life, this mini pill box can keep your pills and supplements compact, making your home or office desk tidy.
Premium Material: Made of solid food grade PP material, it is odorless, the material has better pill storage stability.

Pill Cutter: The pill box is equipped with a metal blade and grinder to meet the use needs of different drugs and make it more convenient to take medicines.

Easy to Use: The pill box has 4 compartments, which allow users to place different drugs to avoid confusion and make it easier to eat drugs.

Portable & Compact: You can easily put it in your pocket or bag, which is convenient to carry and can meet your daily needs.

Easy to Clean: The pill box is washable and can be easily cleaned after use. The removable cleaning design inside the pill box ensures cleanliness and hygiene in use.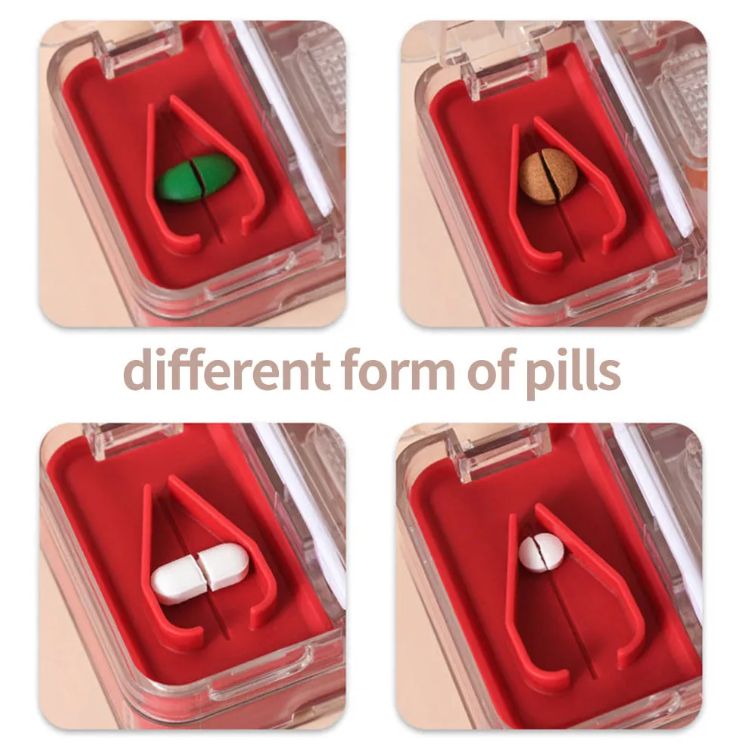 SPECIFICATIONS:
Material: PP
Size: 8.4*6.3*3cm
PACKAGE INCLUDE:
1 * Multifunctional Pill Cutter