As a gift for your loved ones, this

limited stock

Mini Portable Folding Knife will be the perfect!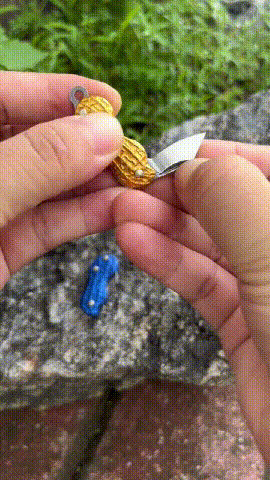 Features
Material: The blade is made of stainless steel, with toughness and corrosion resistance. The hand trigger is made of aluminum with a grooved peanut appearance to ensure non-slip use.
Portable: This peanut-shaped folding knife can be put into a pocket to carry or strapped to the waist for easy and safe carrying. Makes it ideal for fishing, hiking, camping, climbing and work.
Unique Appearance: The folding knife is designed in the shape of a peanut, making your outdoor activities fun.
Folding Design: Pocket knife can be folded design, easy to store, open and close many times is not easy to break, can withstand the larger force and is not easy to deform.
All-around Knife: The pocket knife is essential for outdoor activities, and it is also commonly used in daily life, and can be given as a gift to friends who like outdoor adventure.
Specifications:
Material: Stainless Steel
Size: Expand 6cm
Blade length: 1.8cm
PACKAGE INCLUDES:
1 x Mini Portable Folding Knife
1 x Necklace